---
Bo's Memoir Introduction (Blog)
This memoir was the result of numerous people asking me if I have ever considered writing a book about my Vietnam combat experience. I will be devoting nine of about twenty one chapters to my flying tours including my three combat tours. I had significant flight time in eleven types of aircraft during my flying career. The following is a poster that Ray Thomas Captain USN Ret., a VA-82 squadron mate, made up for me.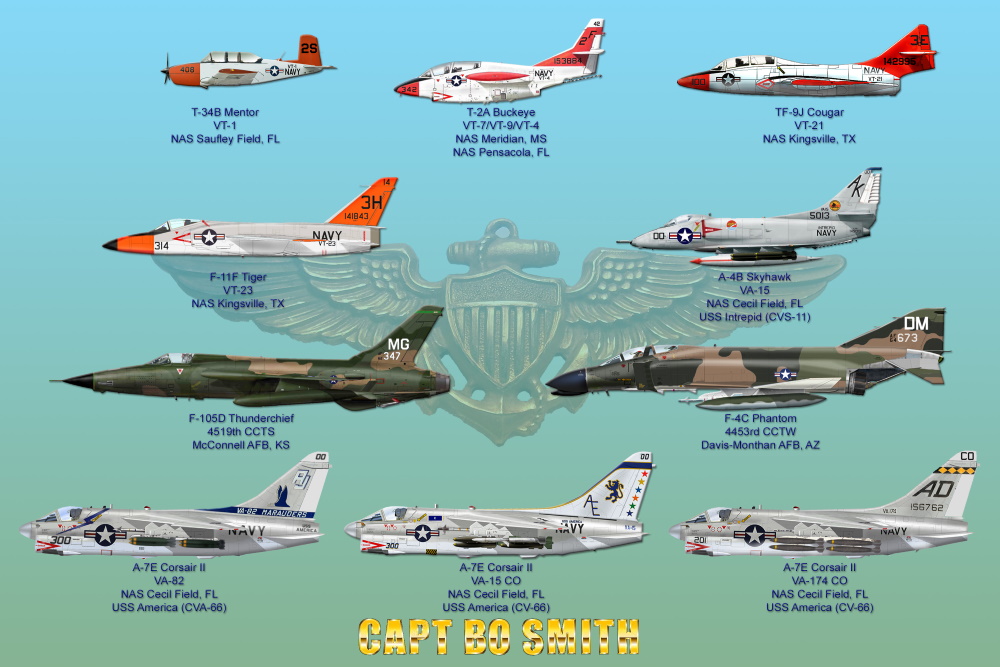 I flew the four aircraft with the red tails during flight training; the T-34 at Saufley Field for primary flight training, the T2A at NAS Meridian and NAS Pensacola for basic jet training, and the TF9 and AF9 cougar and F-11 Tiger at NAS Kingsville in Advanced jet training. I was awarded my "Navy Wings of Gold" in February, 1965. I flew the A4 Skyhawk in VA-15 at NAS Cecil Field and on two Vietnam deployments onboard USS Intrepid CV-11 from 1965 through December, 1967. I flew the AT-33 (not pictured) and F-105 Thunderchief in the 4519 Combat Crew Training Squadron at McConnell Air Force Base in Wichita, Kansas and had a 34 flight our checkout in the F4 Phantom at Davis Monthan AFB in Tuscon, Arizona from 1968 through 1970. After checking out in the A7 aircraft in replacement pilot training, I flew the A7E Coursair in VA-82 at NAS Cecil Field in Jacksonville Florida with one Mediterranean cruise in 1971 and my third Vietnam deployment 1972 onboard the USS America CV-66 fling the A7C. I flew my second tour in the A7E in VA-15 at Cecil Field with one Mediterranean cruise in 1977. I was the Commanding Officer of VA-15 from Dec 1977 through April 1979. We were recognized as the best Light Attack Squadron on the East Coast with the Battle "E" during that tour. My third A7 tour was as the Commanding Officer of the VA-174 Hellrazors at Cecil. VA-174 was the replacement pilot squadron and had over 1000 sailors and 100 aircraft. I flew the A7B/C/E and the TA7C during that tour and recorded my 500th carrier arrested landing (trap) on the USS America during that tour!

Please remember that this memoir was originally written as a legacy for my family. As a result, it is a bit egocentric as it documents my life's activities and adventures. But, it also has become a record or history from my perspective of the squadrons or ships for the period of time that I was stationed with them. Writing this memoir has required a lot of research, reflection, and reestablishing contacts with former shipmates.
When I flew my Vietnam combat missions, my only concerns were to fly the flight schedule and be as effective as a combat pilot as I could. The political aspects of the war were not part of my concerns. However, writing my memoir has involved reading numerous accounts of the air war in Vietnam including research in how the political aspects of the war affected our effectiveness thus changing my Memoir in to part journal, part analysis. I used green text to indicate the political stuff. I will use the navy blue text for the material which is related to items of fact or personal observation. I should note that all three of my Vietnam deployments were during the summer monsoon season which featured the best flying weather and consequently the most intense portions of the air war over the north.
In addition to my own recollections and my flight log book, I am using information provided by my squadron mates, then Google and Wikipedia as external sources while writing this memoir. I have also read numerous books about Rolling Thunder (1965-1968), Linebacker One and Two (1972), and about VAL 4 and the OV-10 close air support operations in the Mekong Delta.
I made a major discovery, actually my wife Diana made the discovery. While cleaning out the garage, she found a couple boxes of pictures and documents. Included were photos, combat charts, and award certificates from my time flying A4 Skyhawks in Vietnam with VA-15 in 1966 and 1967. There are photos from my USAF Exchange tour flying the F-105 and my two VA-82 deployments flying the A7 Corsair from the USS America CV-66; one Med cruise in 1971 and photos, combat charts. and documents from our Vietnam deployment in 1972.
We found pictures and the original copy of an article I wrote which was published in the Journal of Naval Science when I was attending the Royal Air Force Staff College in Bracknell, England. We found photos and documents from my Executive Officer/Commanding Officer tour in VA-15, my tour as Commanding Officer of VA-174, my time as Executive Officer of the USS Saratoga CV-60, and my time as Commanding Officer of the USS Austin LPD-4. I have been going through these items and have begun the process of incorporating them in the appropriate chapters of the memoir and will continue to do so over the next several months.
---
| | |
| --- | --- |
| | Vietnam: |
---
Operation Rolling Thunder (1965-1968)- The VALions of VA-15, USS Intrepid (CVS-11):
I completed over 200 Vietnam combat missions in Vietnam in 1966 and 1967. My first Navy fleet squadron was Attack Squadron Fifteen (VA-15).
We deployed onboard USS Interepid, a World War II vintage aircraft carrier which had been converted from the Anitsubmarine Warfare mission (CVS) to conduct Close and Direct air support missions from Dixie Station off the coast of South Vietnam. We flew A4B Skyhawk aircraft mostly two combat flights a day working with Forward Air Controllers in support of ground operations in the Mekong Delta to areas northwest and east of Saigon. After two line periods from Dixie Station, in early August, 1966, we were ordered north to Yankee Station in support of Rolling Thunder missions against North Vietnam. It was tricky business operating an aircraft carrier specifically designed for close air support in a low threat area (no fighter (VF), electronic warfare (EW), or air control aircraft (AEW) in the air wing) in the high threat environment of North Vietnam. Our A4B aircraft were not equipped with adequate electronic warfare equipment and were only marginally effective at night. As a result, most of our missions at first were confined to the lower threat coastal areas from south of Vinh to south of Thanh Hoa. However, as we gained experience, we flew missions from Thanh Hoa to Haiphong and occasionally further inland with fighter support from other Yankee Station aircraft carriers. We flew our final missions on this iniyial deployment in late October, 1966.
Eight months later, on June 21st, 1967, we were back on Yankee Station with USS Intrepid (CVA-11) flying our first missions of our second Vietnam deployment. This time though, we were not "new guys". We returned with a different CO and XO, but most of the pilots from the first cruise and only a couple of "new guys". We had turned in our 16 old A4Bs for 14 A4C Skyhawks properly fitted out with EW gear. During the turnaround training period, we had received extensive training in the Russian made AAA and SA-2 Guideline defense systems as were assigned as the airwing squadron dedicated to fly missions against the AAA and SA-2 missile system radars, called Iron Hand missions. In addition to a second east coast A4C squadron, a west coast A4B squadron and an A1 Spad squadron, our CAG 10 airwing had been assigned F8 Crusader fighter escort and reconnaissance aircraft, electronic support aircraft, and airborne early warning aircraft. Our fighter aircraft would be limited to providing TARCAP fighter coverage for our strike air craft and escort for our RF8 reconnaissance aircraft. Barrier Combat Air Patrol (MIGCAP) missions for our strikes would be provided by other Yankee Station F4 Phantom fighter squadrons. This time, we would be "in the thick of it" from the start. We were ready and would prove that the USS Intrepid small deck carrier could provide effective air to ground attack missions as well as the large deck carriers.
These are detailed "journal" a style chapters of theses two deployments complete with combat charts, photographs, mission descriptions and even port visits.
VA-15 (1965-1966) First Vietnam Deployment
VA-15 (1967) Second Vietnam Deployment
---
For more information about Rolling Thunder, I suggest you follow the blog
Rolling Thunder Remembered
by Bear Taylor.
---
Operation Linebacker 1 and 2 (summer/fall 1972): The Marauders of VA-82, USS America (CVA-66):
I completed close to 100 combat missions flying the A7C Corsair with the Marauders of VA-82 from the deck of USS America (CV-66) during the summer and fall of 1972. At the beginning, I remembered very little about that cruise; my third Vietnam tour. But now that I have re-established contact with some of my VA-82 Marauder squadron mates; Jim "Rock" Yeager, Ray Thomas, Charlie Sapp, Jim Kuzmick, Ron Brooks, Marv Baldwin, Gary Tabbert, Terry Ede, Jim Brister, and Nick Nickens, I have been able to reconstruct that deployment in some detail. I (we) have completed detailed descriptions of the Battle of Mo Duc which took place on September 17th, 1972, a "Pocket Money" mining mission we (me, Rock, and Ray Thomas) flew near Hon Gay on October 4th, and a major strike mission I lead against the Do Xa bridge near Hanoi on October 5th with "Rock", Dan Ryder, and Ray Thomas. The mission to Hanoi features a two minute audio tape of a salvo of three SA-2 surface to air missiles directed at my lead section.
These Marauder contacts reestablished during the writing of this memoir has generated interest in having a reunion. So, we have scheduled one in St. Augustine at the Hotel Casa Monica from Tuesday, November 17th through Friday morning, November 20th. It will be the first time many of us have been together in 48 years! If you are a Marauder, check out the pictures and short bios in
VA-82 Reunion Roster
.
It turned out that Charlie Sapp before reporting to VA-82, had a tour of duty in 1969 flying OV-10 Broncos with Light Attack Squadron four (VAL-4) in the Mekong Delta providing close air support for SEAL teams, US Navy River Patrol Boats, and various other ground forces. I have included some very interesting stories about his experiences with VAL-4 in my memoir chapter about the VA-82 deployment in the summer of 1972.
This is a detailed "journal" a style chapter about my third Vietnam deployment flying the A7C Corsair in VA-82.
VA-82 A7 Corsair Tour-1972
I was recently successful in making contact with Tom Scott Captain USN Ret. Tom was the XO when I checked in to VA-82 and became the CO in September, 1971 when we were on our Med cruise. He was relieved in September, 1972 while we were on our Vietnam deployment. In the process of exchanging emails, I learned that he had taken notes throughout his Navy career which turned out to be the source of a collection of stories about the Navy which were published as a book, "The Stories of One Shot Scott". There were several stories about his time in VA-82, some of which I added as an update to the two chapters in the VA-82 chapters in my memoir.




"The Stories of One Shot Scott"

A great collection of sea stories taken from the naval career of Tom Scott Captain USN Ret.

Copyright 2013 by Thomas P. Scott


Create Space 2013
Amazon.com

---
Click on
Vietnam Bibliography
for a current list of the books I have read while writing the chapters about the air war over Vietnam.
---
In order to understand the political role that President Lyndon Johnson played in Operation Rolling Thunder (1965-1968) and President Richard Nixon played in Operations Linebacker One and Two (1972), I researched both these men by reading:


To really understand President Johnson's life and political motivation, it is helpful to read all four volumes of Robert Cato's biography of Lyndon Johnson.
Volume 1. Johnson's early years growing up in the high country of Texas.
Volume 2. Johnson's life as a Congressman and his relationship with Speaker of the House, Sam Rayburn
Volume 3. Johnson's life as a Senator and his relationship with Senator Richard Russell.

Volume 4. "The Passage of Power". President Johnson's goal of passing "Great Society" legislation and his difficulty in coming to terms with his role as Commander in Chief for the Vietnam war.




To best understand President Richard Nixon's role as Commander in Chief during the Vietnam war, I chose to review it through the eyes of his National Security Advisor, Henry Kissinger in his book "The White House Years".

President Nixon understood that the way to limit Russian and Chinese support to North Vietnam was through bilateral negotiations with Russia through things like the SALT talks and through Nixon's eventual expansion of our relations with China through his visit to China in May,1972.



Politics was not a significant factor in my childhood, my time at Cornell, or during the training command when I was in pursuit of my Navy "wings of gold". There were some political events during those periods in my life that were significant such as the Cuban missile crisis in October, 1962 and the assassination of John F. Kennedy in Dallas, Texas on November 22nd, 1963. I will be adding my comments about how these events affected me in the relevant chapters.
---
I was raised by my parents to be goal oriented and to achieve my goals through hard work. Competition with my peers was not part of the process. I was taught to be helpful to my peers and mentor when appropriate. Basically, I was taught to treat others as I would like them to treat me (The Golden Rule).
My objective in writing this memoir is to reflect upon my life and lessons learned in the process of living it and to provide a historical record for my children and my Navy shipmates. I am also enjoying the challenge of writing it. Conducting the research online, through reading relevant books, and providing factual information from my flight log book has required some effort but has been enjoyable. I also have liked the increased contacts I am experiencing with my Navy friends as I seek their comments on my memoir including war stories of their experiences.
I decided to publish it online as part of my personal website. A good aspect of putting it online is that it is a living document and people who read it can correct any errors in content and make suggestions for any additions they might have. I'm not asking you to point out misspellings, typos, or grammatical errors. I want your inputs such as events I have omitted or mistakes in fact that I have made. I hope you will do so and let me know your recommendations by email at:
As I am writing this in some cases almost sixty years after the events occurred, the dates and places are the best I can remember or document in some way. I am learning that memories that seem clear to me and my friends are not necessarily accurate concerning the place or time that they occurred.
While reflecting while writing, I have come to believe that the emotionally strenuous times over the skies of North Vietnam resulted in my case (and likely for other pilots who experienced the loss of a close friend in combat) in a type of mild but significant variety of Post Traumatic Stress Disorder (PTSD) known as "emotional numbness". All good carrier pilots have to have the ability to compartmentalize focusing only on the business at hand in order to properly fly the aircraft. This is particularly critical when experiencing inflight emergencies as an incorrect action can cause the loss of the aircraft and possibly the life of the pilot. In combat, it also became necessary to put off grieving for someone who has just been lost in order to continue to fly the mission in progress or the next mission after that. After awhile, you may be unable to outwardly display grief at all. An advantage of this "emotional numbness" is that it is easier to concentrate on those things you can control and ignore those that you cannot. I think that the losses we experienced during my first two Vietnam deployments significantly affected my third Vietnam deployment with VA-82. It did not make me more cautious; exactly the opposite. I believed that "speed was life" and being aggressive and unpredictable increased your survivability. But, I was more emotionally detached not wanting to get too close to my fellow Marauder pilots lest I should loose one of them. I think that is why I had very little memory about that deployment until I reconnected with my fellow Marauder pilots.
I am dedicating my memoir to Vice Admiral Jerry O. Tuttle US Navy Retired. I worked for Jerry Tuttle in my first squadron, Attack Squadron Fifteen (VA-15 VALions). I flew with him in combat operations in Vietnam in 1966 and 1967 and observed his leadership style over the years. I did my best during my naval career to follow his lead on how to identify and solve problems and run a squadron or ship as a Commanding Officer. Jerry passed away on October 30th, 2018. VADM Tuttle was buried in Arlington National Cemetery on Thursday, March 14th, 2019 after a Catholic Mass was given at the Fort Myer Post Chapel. A reception followed at the Fort Myer Officer's Club after the burial. Most of the VA-15 (circa 1966/67) pilots, wives, ex-wives, and widows were present. The next day, we drove to Virginia Beach, and a squadron reunion at the Warriors Taphouse to celebrate VADM Tuttle's life. You can click on my on
Dedication
page for some pictures of the event. We just completed another reunion from November 12th trough the 15th, 2019 at the Casa Monica Hotel in St. Augustine. Jerry Tuttle's wife Barbara and her son Mark and Mark's wife Karen's attendance at the reunion was a high point at the reunion. Unfortunately, we had to toast the passing of another VALion pilot, RADM Bob Cole USN Ret. who died shortly before the reunion after a gallant fight with liver cancer.
There are a lot of people who contributed significantly to my life over the years. I plan to mention them during the writing of my story on how they positively affected my life. I am relying on my sister, Barbara, who recalls more details about our childhood together with our parents than I do. Jeff Lapic was my best friend during junior high school, Ridgewood High School, during our college years, and during our first few years in the Navy. Captain Jerry L. "Possum" Terrell USN Ret has been my shipmate and best friend for over fifty years (1965 to present). Possum has been with me at my best and worst times; always positive and supportive. Most of my fellow pilots in VA-15 (circa 1966/67) were outstanding officers, exceptional combat aviators and loyal shipmates. I continue to stay close to them through squadron reunions.
Marianne and Lehman Barnes were colleagues during my educator days and continue to be friends to this day. My wife Diana and I are members of the New Day JAX Church in Jacksonville. We enjoy the fellowship, music, and message we experience with this group.
I have had three wives over the course of my life. All of them have been a significant factor in my life. My first wife Mary (1963-1978), is the mother of my first three daughters; Heather, Laura, and Stacy. She was married to me during all three of my Vietnam combat tours. She kept the "home fires burning" during my sea duty tours. She has been very helpful in providing facts and photos of our time together while I was in the Navy. My second wife Cathy (1978-2000), is the mother of my fourth and fifth daughters; Jessica and Lindsay. She divorced me after I retired from the Navy and decided to pursue my second career in education instead of flying for the airlines. I have been married to my third wife, Diana, for eleven years now (August 2008 to present). Diana and I enjoy our life together. We live in Jacksonville Florida with our three Shih Tzu dogs; King Tut, Panda, and Bella and our cats; Gemini (orange tabby) and Ruby (American Curl).
You can find additional information about me in addition to this memoir on my website at:
http://bo-smith.net
.
Childhood through High School
(1941-1959)

Cornell University
(1959-1963)

Navy Flight Training
(1963-1965)

Maintenance Officer's School
Memphis
VA-45 and VA-44
NAS Cecil Field, Jacksonville

(February 1965-October 1965)

VA-15 (1965-1966)
First Vietnam Deployment
USS Intrepid CV-11
Dixie Station/Yankee Station
(109 combat missions)
(June 1966- October 1966)

VA-15 (1967)
Second Vietnam Deployment
USS Intrepid CV-11
Yankee Station, Tonkin Gulf
(94 combat missions- total 203)
300 Total Intrepid Traps
(November 1966-November 1967)


US Air Force Exchange Tour

AT-33 Instructor/F4 Phantom/
F105 Thunderchief Instructor Pilot

McConnell AFB, Wichita, Kansas
(March 1968-March 1970)


VA-82 A7 Corsair Tour-1971

1971 Mediterranean Cruise
(July 1971-December 1971)
USS America CV-66



VA-82 A7 Corsair Tour-1972

Third Vietnam Combat Deployment
Yankee Station, Tonkin Gulf
(June 1972-December 1972)
(102 combat missions)
USS America CV-66



Royal Air Force Staff College

Bracknell, Barkshire, England

(January 1973-February 1974)

COMNAVAIRLANT Staff Tour
Norfolk, Virginia
(March 1974- February 1976)
A7 Class Desk Officer
Aide and Flag Lieutenant
VA-15 Executive Officer Commanding Officer
(1976-1979)
USS America CV-66 Med Deployment
(Dec 1977-April 1979)
COMNAVAIRLANT Battle "E"
COMTHIRDFLEET Staff Tour
Ford Island, Oahu, Hawaii
Air Training Officer
(May 1979-February 1981)
Commanding Officer VA-174
NAS Cecil Field
Jacksonville, Florida
(March 1981-July 1982)
Total USS America Traps-500
Idaho Falls Ship Material Course
(Feb 1983-June 1983)
Executive Officer USS Saratoga (CV-60)
Med Deployment
(1984-1986)
Commanding Officer USS Austin (LPD-4)
(May 1986-May 1988)
Med Deployment-May 86-Nov 86
Northern Wedding/Med Deployment
(1987-1988)

Chief of Staff
COMCRUDESGROUP 12
(1989)
USS Eisenhower CV-69 Deployment
COMFAIRWESTPAC
Operations Officer
COMORANGE- 7th Fleet
Atsugi, Japan
(1990-1991)
Desert Shield (Aug-Sep 1990)
Retired as Captain US Navy
July 31st, 1991
Total Tactical Jet Hours- 4060
Total CV Landings- 980
Total Combat Missions- 305
(Total 511 combat flight hours)
Nine Deployments

Educator
Terry Parker High School
University of North Florida
Florida Space Research Institute
(September 1991-May 2007)



Blue Ridge Mountains
Cabin in Burnsville, NC
December 2008-December 2016
Bo's Mine Tours
(2011-2016)