---





COMTHIRDFLEET

Assistant Air Training Officer

Ford Island, Oahu, Hawaii

May 1979- February 1981

Last Updated: September 6th, 2021

---
Map of the Hawaiian Islands
Map of Oahu
Ford Island in Pearl Harbor
(Picture taken in 2012)
A- Area where COMTHIRDFLEET Headquarters Buiding was located
B- Area of senior officer's housing, the Arizona Memorial, the Ford Island Tennis Club and swimming pool.
C- Pearl Harbor and CINCPAC/CINCPACFLT headquarters
D- The new bridge to Oahu (in 1980, we took a ferry bak and forth to Pedarl Harbor)
E- New base housing complex; F- The old airfield


Ford Island in 1941


---
When I checked in to Third Fleet Headquarters on Ford Island, I learned that there would be wait of about 60 days before we could move in to our government quarters on the island. We would have to spend that time at a hotel at Waikiki; a 60 day Hawaiian vacation on the government.
During the day, we could go to Waikiki Beach or snorkle at Hanauma Bay or drive to the North Shore and enjoy the waves or check out a rainbow!
| | |
| --- | --- |
| Hanauma Bay | North Shore |
At night, we had dinner in a different restaurant every night and would check out places like the International Village.
---
Ford Island- present
Ford Island- 1980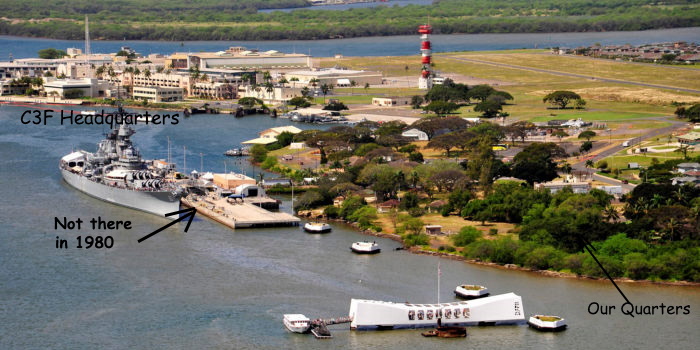 It was a short bike ride or bus (rain) from our quarters to the C3F headquarters.
It was a pleasant three mile run around the perimeter of Ford Island





This was not our quarters. But, it might have been our next door neighbors'.

We had three bedrooms and two baths and a very nice lanai that faced Pear Harbor. We had a rim of coconut palm trees that lined our backyard toward the trade winds which came across the harbor.



So far, all the pictures are from Google.
Unfortunately, all my pictures from Hawaii were destroyed in a flood. I'm hoping that Cathy, Laura, and Heather can provide some pictures.

---
The Mission of COMTHIRDFLEET in 1980

The mission of the Third Fleet in 1980 was to train naval forces for overseas deployment and evaluate state-of-the-art technologies for fleet use.
(Wikipedia)
My job as Assistant Air Training Officer was to work with my boss, the Air Training Officer (CDR Barry Kunkle) to provide air services for fleet units in the Hawaiian operating area and for Battle Groups transiting Hawaii enroute to deployment as part of the Seventh Fleet in the western Pacific.



A significant part of the job was to organize a Schedule of Events (SOE) for transit exercises, fleet exercises, and Rim of the Pacific (RIMPAC) exercises and to provide air services and Orange Force opposition for these exercises.

Learning how to produce an SOE was exceptionally valuable for me in subsequent tours of duty.


Flight Time- I did most of my flying with VC-1 at NAS Barbers Point in the TA4J Skyhawk. I occasionally flew with west coast VC squadrons during fleet exercises.


| | | |
| --- | --- | --- |
| VC-1 Patch | VC-1 TA4J | NAS Barbers Point, Oahu, Hawaii |
---
I am in the process of trying to contact Barry and Cindy Kunkle to help me with this chapter.
Barry in addition to being my boss along with his wife Cindy were also our best friends on Ford Island.
I played a lot of mixed doubles tennis with Cindy.

My daughter Laura came to stay with us during our first year in Hawaii. She used the ferry on a daily basis while she attended Radford High School. She and I sang the Hawaiian wedding song when Barry and Cindy respoke their wedding vows at the chapel near the banyan tree on the island.

My daughter Heather came to visit us the second summer. She and I played father/daughter tennis on Oahu.

---
Next Chapter CO VA-174 (1981-1982)
---
Website Created by Robert S. "Bo" Smith