---
My Second Squadron Tour (1970-1971)
(Updated August 10th, 2020)
Instrument training in VA-45 and RAG training in VA-174
and
Workups and our 1971 Mediterranean cruise onboard USS America CV-66



VA-45 Blackbirds
TA4 Instrument Training




VA-82 Marauders
A7-Corsair Fleet Squadron




VA-174 Hellrazors
A7 Corsair RAG Training
---



Mary, Heather, and Laura at the Grand Canyon during my USAF exchange tour in 1968.




Mary, Heather, Laura and I packed up our stuff in the old Buick LeSabre and headed southeast back to to Jacksonville.

Only this time, we had a new member of the family, a dog named Bosco. Bosco belonged to our neighbor in base housing at McConnell. I threw a tennis ball to Bosco next door for about a year. When our neighbors moved, they couldn't take Bosco so they gave him to us. Their loss was our gain. Bosco was a great dog!

When we arrived in Jacksonville, we decided to buy our first house.
We found a three bedroom two bath house in Orange Park which is where most of the pilots at Cecil Field were living those days.
We decided on a house at 108 Saturn Lane East because it was near S. Bryan Jennings Elementary School.



108 Saturn Lane East had a swimming pool
in the backyard. It also had a vacant lot behind us which couldn't be developed because it was a pioneer cemetery. This gave us privacy for our pool.




We wanted Heather and Laura to go to S. Bryan Jennings because the Principal there was well
known for her progressive approach to elementary education.

Saturn Lane was also not far from a very nice place called the Club Continental on the St. Johns River in Orange Park.
The Club Continental used to be an old estate and had a beautiful main house which had an excellent restaurant, beautiful grounds
which included a nice pool and clay tennis courts.
Did I mention that the Club Continental had clay tennis courts. They did and I spent a lot of time there.
I played singles and doubles for their Men's A Team and also competed in their club tennis tournament.






The Club Continental men's tennis tournaments were usually won in those days by Dr. Dick Bolton.

But occasionally, Dr. Bolton didn't play so another member Ray Bradbury and I usually fought it out.

Occasionally, I won!

Here I am sporting my John Newcomb mustache
and my TAD Davis wood racket.



---
I actually did do some flying when I could fit it in between sessions on the tennis courts!

---

The first item that had to be accomplished was to renew my instrument card.





VA-45 Blackbirds

TA4F Skyhawk

Instrument Training





April, 1970

I flew seven TA4F instrument flights (14.2 hours) from April 10th through April 20th to renew my instrument card.
Because I had sufficient flight hours, it was a Special Instrument Card.

---





VA-174Hellrazors

A7 Corsair

Fleet Replacement Training







May, 1970

First I was required to complete the required ground training; swim requalification including the Dilbert Dunker,
high altitude pressure chamber, and ejection seat training. Then, I was required to complete A7 systems ground training
including simulator training. After I completed this training and successfully passed a blindfold cockpit check,
I was ready to fly.

---




VA-174's hangar is the double hangar in the center of the image. The hangar to the left was the Fleet Replacement Squadron Hangar.

The hangar to the right was VA-45's hangar and the FRAMP (Fleet Replacement Aircraft Maintenance Program) space where the training of A7 maintenance personnel took place.


I flew five flights in May (8.8 hours); one in the A7A, two in the A7B, and finally three in the A7E.
These were all solo flights of course as the Navy hadn't produced the two seat A7C version until 1975 or so.




This is what it looked like flying to Cecil
for landing at Runway 18. We would fly about halfway up the runway in an echelon formation and break one aircraft at a
time to the downwind leg for landing.

Sometimes, the more experienced fleet squadrons would execute what is called a
"fan break" where all four aircraft in an
echelon formation would break simultaneously and get their interval on the downwind leg by varying the amount of G the pilot used in the break. The lead pilot would use more G than each pilot in succession.

---

June, 1970

I flew only four flights in June (7.9 hours); all in the A7E

July, 1970

I flew seven A7E flights in July (18.7 hours); two night flights (5.2 night hours)
and three cross country flights (an out and back to MCAS Yuma.

---


I began attending Happy Hour at the Rocket 17 Bar at the Bachelor Officers Quarters at Cecil regularly on Friday nights. I was accompanied by Possum there often. He was the Operations Officer at VA-174. One night when we were leaving the Rocket 17, I asked him how much money he had in his pocket.
His reply: a quarter. (More on this later)

By the way, about this time I learned that I was being promoted early to Lieutenant Commander.


August, 1970

Those 16 flights in May, June, and July and three flights in August (August 3rd, 17th, and 20th)
were all intended to get us ready to deploy to MCAS Yuma Arizona Weapons Training.
I had 41.1 A7 flight hours before my Yuma Detachment.


MCAS Yuma Weapons Detachment August and September, 1970







You need all of that long runway
at MCAS Yuma when the temperature is hot.


I flew an A7E from Cecil to Yuma on August 22nd (3.8 flight hours).
I flew 12 weapons flights at Yuma from August 24th to August 31st (11.7 flight hours).
I flew 14 weapons flights at Yuma from September 1st through September 10th (18.3 flight hours).

These Weapons Detachments are one of the two high points of replacement pilot training. The other
being day and night carrier landings toward the end of the syllabus.



The students are grouped into a class which takes on an identity. Each class usually deigns and produces a class "T" shirt which each pilot usually wears while flying at the detachment and for the rest of their time at the RAG. The instructors who accompany these students usually get in on the fun also. The flying is terrific. It initially consists of about five days of two flights a day of practice bombing, rocket firing, and strafing at a practice range.
That is usually followed the sixth day by a day flight at the range followed by a night sortie of weapons delivery practice.
This day night routine usually lasts about four more days. Once the practice range missions part of the syllabus is complete, there are about four days of practice strikes against tactical targets. The final day is usually some sort of a "graduation exercise" which combines it all in one big strike.



After the Weapons Det at Yuma, I flew back to Cecil which was followed by seven post det syllabus flights.

In all, I flew 23 flights in September (35.4 flight hours).

---

October, 1970

Field Carrier Landing Practice (FCLP) and Day Night Carrier Qualification Landings

In October, I flew 19 flights (19.7 flight hours. The first flight was an Electronic Countermeasures flight.
The purpose of that flight was to introduce the pilot to the ECM systems in the A7E aircraft.

The other 18 flights were four day Field Carrier Landing Practice (FCLP) flights (45 landings) and eight night FCLP flights (95 landings).
Almost all of these FCLP flights were flown at the simulated carrier deck at NLF (Naval Landing Field) Whitehouse a few miles north of Cecil.


| | | |
| --- | --- | --- |
| | NLF (Naval Landing Field) Whitehouse | |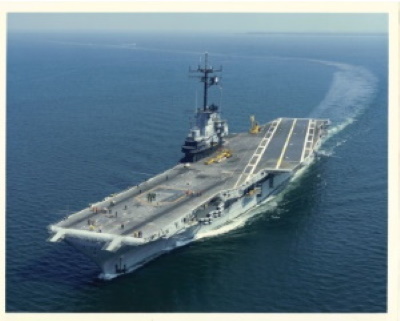 USS Lexington CVT-16
On October 20th, 1970 I had eight day carrier catapult takeoffs, two "touch and go" landings and seven carrier landings (Traps) on the USS Lexington CVT-16
That night, I had three night catapult shots and and three night traps. On October 21st, I had three more day cat shots and traps and four cat shots and night traps.


The 4th cat shot was to fly back to Cecil Field a day/night carrier qualified A7 pilot with ten day and six night traps!

Now, it was time to check in to VA-82, my second fleet squadron!

---






VA-82 Marauders

November 1970-December 1972






---
---





When I checked out of VA-174, I just got in my car and drove north (toward the bottom
of the image) and pulled in to the parking lot for the second hangar from the bottom.

Va-82 shared that hangar with her sister squadron, the VA-86 Sidewinders.

---
I checked in to VA-82 in November, 1970
---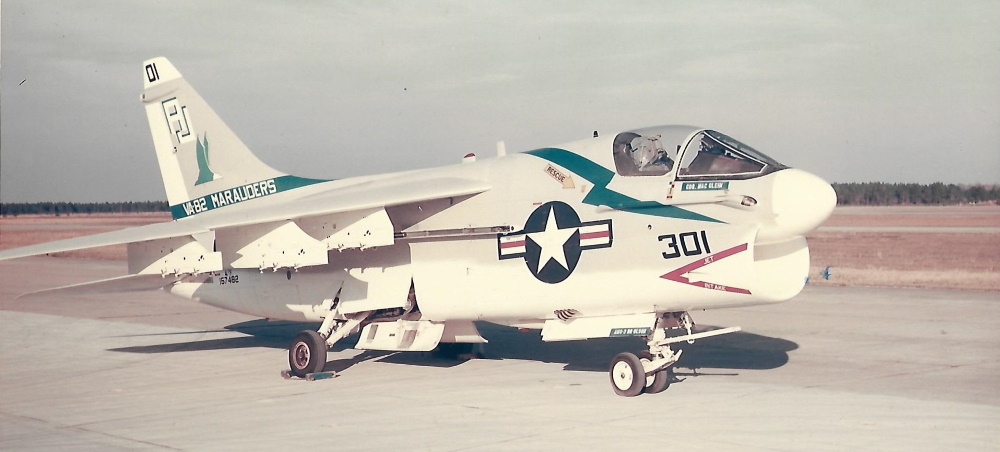 VA-82 had just turned in their old A7Bs for 12 brand new A7Es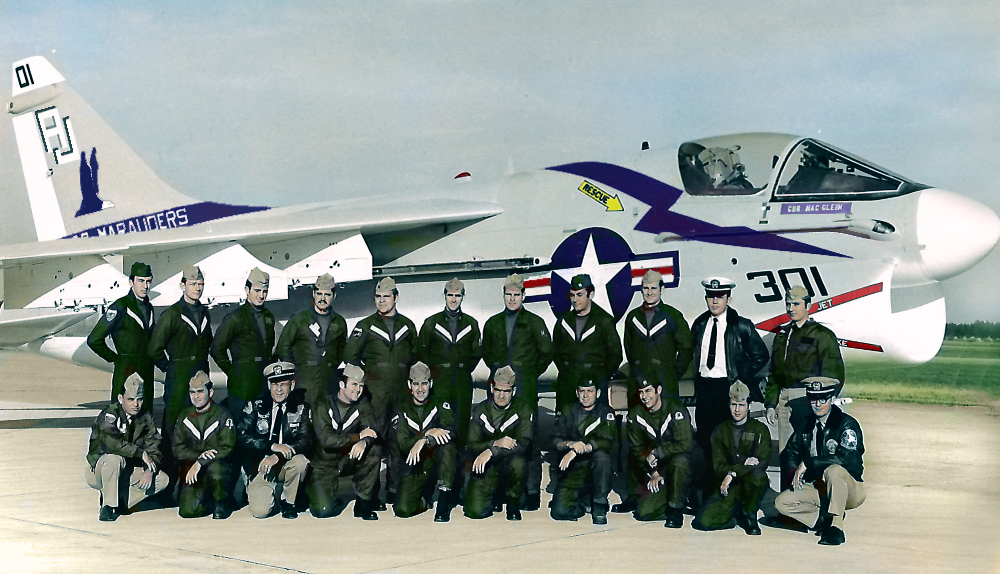 This image was colorized by Ray Thomas using Photo Shop Elements 2020 software

VA182 squadron officers when I checked in November 1970. VA-82 was my second fleet squadron so I was assigned as a Department Head. I was the fourth senior pilot in the squadron. I was junior to the Commanding Officer,
CDR Mac Gleim (5th from ther left front row), the Executive Officer, CDR Tom Scott (next to CDR Gleim's left),
and LCDR Leighton "Snuffy" Smith (between CDR Scott and me on the right front row).
Snuffy was the Operations Officer. I was the Maintenance Officer.





Snuffy and I were quickly called "The Smith Brothers"

(Like the cough drop guys in the 1960s))

The squadron had recently returned from a Vietnam cruise flying A7Bs over Laos, South Vietnam, the DMZ and Route Package 2.
Operations over the higher threat portion of North Vietnam was suspended by President Johnson's bombing halt during that deployment.
The Executive Officer, Tom Scott, Snuffy and I were the most experienced combat pilots in the squadron as we had flown missions over North Vietnam in the during Rolling Thunder 1965, 1966 or 1967. It took the CO, Mac Gleim and some of the other pilots who had just returned from their deployment awhile to get used to the idea that we had some different ideas about combat tactics than they did. It wouldn't matter much right away though as the squadron was transitioning from their old A7Bs into the new full system A7Es and were scheduled for a Mediterranean deployment in 1971.


It would matter on our second cruise though in the summer of 1972 as VA-82 as part of CAG 8 on America would be participating in Operation Linebacker 1 and 2 during the toughest part of the North Vietnam campaign.

The Smith Brothers






Snuffy and I would work together to try to improve the squadron's combat tactics and flying skills.

He was the Operations Officer;. I was the Maintenance Officer for both cruises. We decided not to switch after the first cruise when we learned we would be going to Vietnam the second cruise.

We were roommates on America on both cruises.

---
---
November 1970
I flew 10 flights in our new A7Es in November, 1970 (18.3 flight hours).
Five of these flight were 45 degree Mk76 practice bombing at one of the many targets available to us at the time.
Two of the flights were "post maintenance test flights". As Maintenance Officer, I flew a large portion of these "test flights".
One flight was a radar navigation low level flight.

My Accident


On November 16th, I was flying a two plane formation flight with Lt. Ed Walsh. "Fast Eddie" was one of the better second cruise junior officer pilots
in the squadron. I decided that we should engage in some air combat maneuvering training in one of the overland operating areas south of Cecil Field.
As I said, he was one of the better "sticks" in the squadron. He managed to achieve a position of advantage. I decided to fly the airplane as close to maximum performance that I could and in the process I over flew the plane and it departed controlled flight. I learned later that if you attempted a turn in the A7E with the angle of attack (AOA) about two units over optimum AOA that the normal neutral stability in yaw became negative stability. I apparently introduced some adverse yaw with unbalanced turn and the aircraft departed controlled flight. This occurred at about 7,000' altitude above the ground and about 1,000' above the tops of a cloud layer. The departure was quite violent as I was flying at about 480 kts and about 5 or 6 G at the departure. My instincts took over and I ejected. I really didn't know that I had ejected until I looked down between my legs and observed the aircraft below me. I had a good chute just before I entered the tops of the clouds. When I came out of the base of the cloud layer (about 3,000'), it appeared that I was headed straight for the middle of one of the large lakes in the Lakeland area. I imagined that there was a circle of alligators there and didn't want to join them.

I learned during my Air Force Exchange tour how to cut some of the shroud lines on one side of the parachute which would enable you to steer the chute. I found my shroud cutter and cut four lines. Although this increased my rate of decent,