---

Bo Smith's Personal Webpage
Last Updated: April 15th, 2016

---
---
My name is Bo Smith. After a 28 year career as a carrier naval aviator and naval officer, I retired July 31st, 1991. If you are interested in the details of my Navy career, check out the link below. After retiring from the Navy, I took my State of Florida Professional Education and Earth Science Certification exams and began teaching in late September, 1991. I retired as an educator May, 2007 after teaching Earth/Space Science, Oceanography, and Environmental Science at the high school level for sixteen years and as an Earth Science Lab Instructor at the University of North Florida for about 5 years. During that period, I was fortunate to work in several space related extension activities; first with Florida State University's "Florida Explores'" satellite meteorology program, second as Program Manager and Instructor in the Florida Protein Crystals in Space Program where we were involved in three space shuttle launches and one Soyuz launch to the International Space Station and lastly as an Aerospace Education Mentor (AEM) for the Florida Space Research Institute (FSRI). Since 1993, or so, I have served as Chairperson for a group of Cornell alumni volunteers with the Cornell Alumni Admissions Ambassador Ntwork (CAAAN), conducting contact meetings with students from northeast Florida and southwest Georgia who have applied to Cornell.

In 2014, I began a reading research project into the formation of the American Republic and the increase in democratic republicanism from 1750 through 1830 by reading the biogrphies our founding fathers who were responsible for the events that have shaped our country.


I was married in August, 2008 to Diana Hatten Groover. Diana and I purchased a cabin in Micaville, North Carolina in December, 2008. Micaville is located between Burnsville in Yancey County and Spruce Pine in Mitchell County right in the middle of t Spruce Pine Mining District. Since then, we have divided our time between the balmy climate Jacksonville, Florida from mid September through mid June and the cooler climate of the Blue Ridge Mountains of North Carolina in the summer. During our time in the Blue Rigge Mountains , I have been conducting research into the minerals and mining history (including aboriginal Native American mica mining) of the Spruce Pine Pegmatite in the Blue Ridge Mountains northeast of Asheville. I began a small business, Bo's Mine Tours, in 2011 with the goal of conducting educational tours of real mines for family groups. I will not be able to continue the mine tours this summer (2016) so am in the process of transitionng the business in to a Mine Tour Consulting and Educational Services business.
---
---
The Cabin: Micaville, North Carolina


| | |
| --- | --- |
| The cabin has two bedrooms, a loft in the great room, a guest porch(far left), and a large main porch (far riight). | View of Celo Knob from our porch in the early spring. Celo Knob is the northernmost peak of the Black Mountains. |
---
Spruce Pine Mining District Book Project
I have been conducting research on the geology and mining history of the Sruce Pine Mining District since 2005. My initial intent was to write a book primarily on the geology and mining in the area. But, as my research progressed and I interviewed numerous local mining families, I learned that the culture of the area has been determined by many generations of families which have devoted themselves to working the land be it for mining, farming, or forrestry. Driving the roads and meeting the people proved more interesting than writing the book. The book project morphed into creating a mine tour business designed for the tourist who comes to the area and wants assistance in learning about the geology of the area and how to visit local mine sites in addition or instead of just going to one of the "tourist mining" experiences.


| | | |
| --- | --- | --- |
| I started Bo's Mine Tours in 2011which offers tourists and local folks the opportunityy to learn about local mines and collect the pegmatite minerals which occur here. | | In 2012, I became interested in learning about mica mining in the area by Native Americans about 2000 years ago. |
---
Overview of My Naval Career


I attended Cornell University on a NROTC Scholarship and graduated in 1963 with a BA in Geology. Following graduation, I attended Navy Jet Flight Training earning my "Wings of Gold" in February 1965. I retired from the Navy in July, 1991 as a Captain after a 28 year career in the Navy. I flew over 4200 hours in Navy carrier jet aircraft including over 950 carrier landings and completed over 300 combat missions over North and South Vietnam in 1966, 1967, and 1972. Highlights of my Navy career included: flying Vietnam combat missions in the A4 Skyhawk with my shipmates in the Navy's finest squadron ever, the Valions of Attack Squadron Fifteen (1966-1967); my assignment as an USAF flight instructor flying the F 105 Thunderchief, my second tour in VA-15 as Commanding Officer of an A7 carrier squadron which received the Battle "E" as the Navy's best light attack squadron (1978); as Commanding Officer of VA-174, an A7 Fleet Replacement Squadron which provided training for pilots and maintenance personnel prior to assignemnt to their fleet squadron (1981-1982) as Executive Officer of an aircraft carrier, USS Saratoga CV-60 (1983-1984); as Commanding Officer of the USS Austin LPD-4 (1986-1987), an amphibious ship which included several "special operations" in the eastern Mediterreanean Sea; and as Operations Officer of Commander Fleet Air Western Pacific (COMFAIRWESTPAC) in Atsugi, Japan (1990-1991) where I was in charge of coordinating opposition air forces for Seventh Fleet exerc)ises and had a special assignment involving the initial planning for the Desert Storm air strike in the First Gulf War. I was selected as amember of the Golden Eagles in 2016.


| | |
| --- | --- |
| This is a younger me, a 25 year old A4 pilot onboard the USS Intrepid CV-11 off the coast of Vietnam | Click HERE for more detail of my navy career |
---
---
Wedding Pictures
---
---
| | |
| --- | --- |
| | Diana Hatten Groover was gracious enough to marry me on Saturday, August 16th, 2008 at the Casa Marina Hotel in Jacksonville Beach, Florida |
---
We began the weekend festivities with a reception and buffet dinner at Billy's Boat House. It was the first opportunity for most of the family and friends from both sides to meet for the first time.




Diana and I were married at the Casa Marina Hotel in Jacksonville Beach at 11:00 am Saturday, August 16th, 2008 (her birthday).

The weather was great and after a wonderful ceremony, we enjoyed some fantastic entertainment and the Casa Marina's famous lunch buffet.
<>
---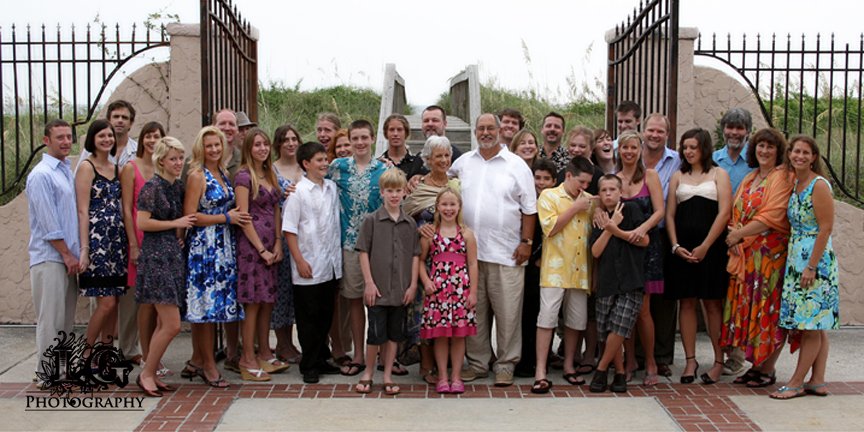 On August 16th, 2008 my family significantly increased in size.
---
Diana's Children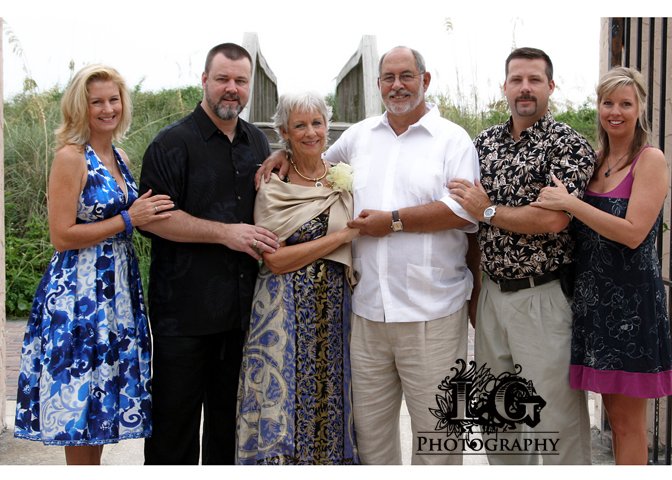 (left to right) Eldest Daughter, Ginny; oldest son, Hampton ; Diana and Bo; youngest son, Wade, and youngest daughter Alice
---

Diana's children and their families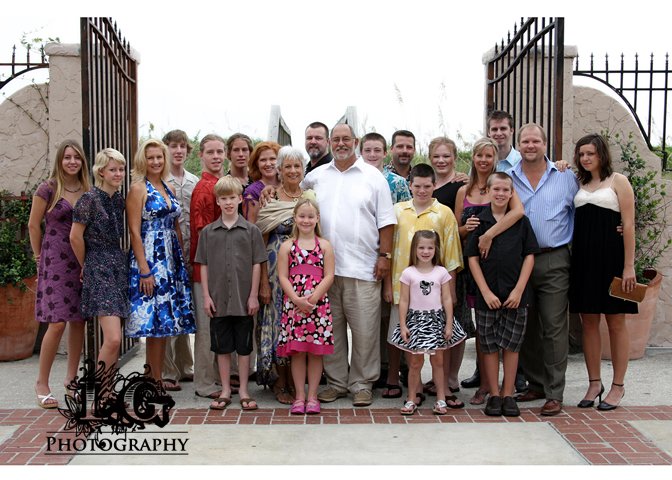 Diana has four children; her older daughter Ginny, her older son Hampton and his wife Susan, her younger son Wade and his wife Shannon, and her younger daughter Alice and her husband Alec and many grandchildren
---

Bo's daughters and their families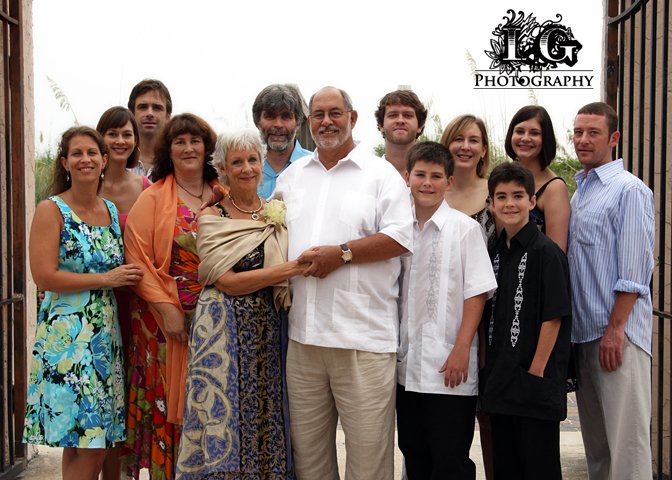 From left to right: daughter Laura (husband Steve and daughter Eliza were unable to attend the wedding); daughter Jessica and husband Tom Scangarello; daughter Heather and husband David; next back row daughter Stacy Smith Gant and husband Jed. Grandsons next to Bo are Austin and Hadden (sons of Heather and David); and on the right back row are daughter Lindsay and an ex-boyfriend
---
Bo's Daughters from 2004 to 2011



This picture was taken about 2004
From left to right; Stacy, Laura, Lindsay, Heather, Jessica


This pcture was taken at Stacy's wedding May 17th, 2008
From left to Right; Heather, Laura, Stacy, Jessica, Lindsay


This picture was taken at Jessica's wedding on January 29th, 2011
From left to right; Laura, Heather, Jessica, Lindsay, and Stacy
Click HERE to learn more about my daughters and grandchildren,
---

Bo and Diana's Sisters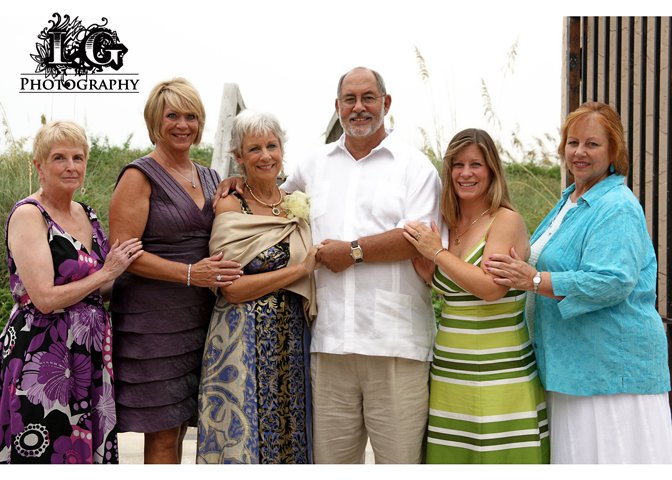 Diana's sister, Linda Chambers is second from the left. Bo's sister, Barbara is on the far right. Barbara's daughter, Melissa is between Barbara and Bo. Diana's cousin, Anita is on the left.
---
Fishing
After my retirement in 2007 while I was still living in Jacksonville, I was able to resume my interest in fishing. Most of my fishing ventures were initially with my friend Lehman Barnes, a retired professor from UNF. Diana and Lehman's wife Marianne joined us on a few occasions. I also went fishing on three ocassions with my sister Barbara on a boat out of Point Pleasant, New Jersey. Diana joined us for one of those trips. We recently got our North Carolina Inland Fishing licences and have our trout fishing gear ready to go at the cabin. I will keep our salt water gear in Thomasville so that we can fish with Lehman and Marianne in Jacksonville if we have a chance.
---
Our initial fishing was conducted in May 2007 from the surf near the jetties at NAS Mayport. I caught this 'black drum' on my second cast.




In June, 2007, I went fishing on the Norma K III, a 'Fluke boat' in New Jersey with my sister Barbara. We ate this 18" 'monster'.


Lehman and I went fishing February 26th, 2008 at the Jacksonville Beach pier and Lehman caught this nice 12" Whiting.





This is a beautiful Bluefish I caught off the JAX pier on Wednesday, March 12th, 2008


My wife, Diana Groover loves to join us when she can.
This was her first fish! :-)





Lehman's wife, Marianne, came along for her first attempt at fishing putting us all to shame catching many small 'croakers' including two at one time!
---
Website by Robert S. "Bo" Smith