My Navy
Updated: October 17, 2015


A4 aircraft pilot on the USS Intrepid CV-11)
flight deck in 1967 off the coast of Vietnam

Click HERE for 'High Flight'
---
Chronology of my naval career:
1959-1963: NROTC scholarship at Cornell University: 1st midshiman cruise (summer of 1960) onboard USS Essex (CVS-9);
2nd midshipman cruise (summer 1961) at Little Creek, Va and NAS KIngsville, Texas; 1st class midshipman cruise (summer
1963) onboard USS Constellation (CV-64) to the western Pacific. Commissionesd Ensign- September, 1963
1963-1965: Navy Jet Flight Training- Primary Flight Traning (VT-1) Saufley Field- T34: Selected for "Jets" sent to NAS Meridian,
Mississippi for instrument and formation training in the T-2A Buckeye; my training was interrrupted by the murder of the
three civil rights workers down the road (part of body search teams) "Mississippi Burning"; sent to VT-4 NAS Pensacola to
continue formation training , air combat maneuvering, and air to air gunnery in T2A; sent to NAS KInsgville, Texas
Advannced Jet Flight Training with VT-21 (F9F Cougar) and VT-23 (F111F Tiger). Received my "Wings"in February 1965.
1965-1968- Attack Squadron Fifteen (VA-15) Valions- Promoted to Lieutennant Junior Grade; Reported to VA-15 in the fall of
1965 after completing training in Memphis, Tennessee at Maintenance Officers School and VA-44 Replacement pilot
training at Cecil Field, Jacksonville, Florida; Upon reporting to VA-15, assigned as Aircraft Division Officer; completed
first Vietnam cruise onboard USS Intrepid (CV-11) from the early spring 1966 to December 1966 flying missions over
North and South Vietnam; Promoted to Lieutennant. asssigned as Personnel Officer and then Weapons Training
Officer; completed second Vietnam cruise from the spring of 1967 to December 1967 flying the A4C Skyhawk flying
again from th deck of the USS Intrepid (CV-11) over North Vietnam and northern South Vietnam).The VA-15 Valions
during the 1966 to 1967 period was the finest light attack jet squadron in navy history!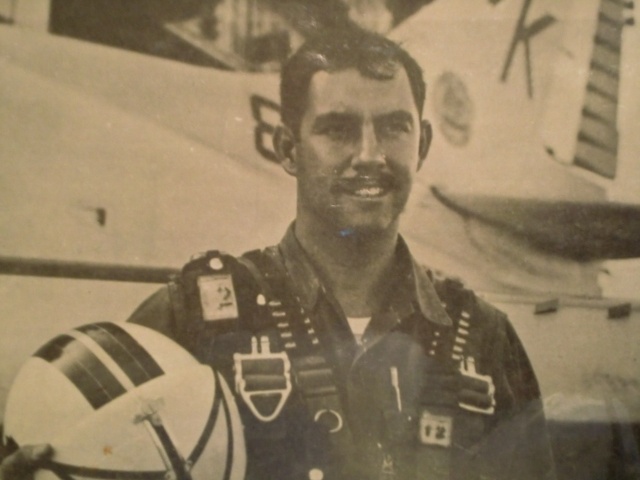 Here I am as Rocket 12, a Valion A-4 pilot onboard USS Intrepid
off the coast of North Vietnam in the summer of 1967
Mostly junior officers in VA-15 in Ready Room early in summer 1967 cruise.
From left to right: Phil "PC" Craig (MIA July 4th, 1967) Dazve Parsons (left front), me (with Mustache), Bob Hamel (mayor of Olongapo), John Newman (Smeds), Jerry "Possum" Terrell (not a JO, my flight leader),
Dave "Thorny" Thornhill (front right), and Lee Cole (MIA June 1967)
1968-1970- US Air Force Exchange Program- Reported to the 23rd Tactical Fighter Wing at McConnell Air Force Base in Wichita,
Kansas; first assigned as an instructr pilot flying AT-33 aircraft in the 4519th Tactical Training Squadon; next assigned to
temporary duty at Davis Monthan AFB for F4B/C training; returned to McConnell and checked out in the F-105
Thunderchief aircraft; after achieving 400 flight hours in the F-105, I was assigned as an instructor pilot in the F-105.
Promoted early to Lieutennant Commander.
1970-1972- Attack Squadron Eighty Two (VA-82) Marauders- After completing replacement pilot training in the A7B/C aircraft,
I reported to VA-82 as Maintenance Officer and completed a training deployment to Rio De Janiero, Brazil and a
Mediterranean deployment onboard USS America (CV-66) in 1970-1972; Completed my 3rd Vietnam cruise onboard
USS-America (CV-66) from the spring to December 1972.
1973- Royal Air Force Staff College, Bracknell England- Attended the RAF Staff College from March 1973 through the fall 1973.
1974-1976- Commander Naval Air Forces US Atlantic Fleet (COMNAVAIRLANT)- reported to COMNAVAIRLANT in Norfolk, Virginia
as the A7 Corsair Class Desk Officer; compelted my second year at COMNAVAIRLANT as the Aide and Flag Lieutennant to
Vice Admiral Howard E. Greer.
1976-1978- Attack Squadron Fifteen (VA-15) Valions- After completing PXO/CO training at VA-174 in the A7E aircraft, I
reported as Executive Officer; after completing a Mediterranean cruise as XO onboard USS America (CV-66) I, was
promoted to Commander and was assigned as Commanding Officer: VA-15 completed another Mediterranean
deployment onboard USS America and the squadron won the Battle Efficiency "E" as the finest light attack squadron on the
east coast during my tour as Commanding Officer; The VA-15 Valions during the 1976 to 1968 period was the second
finest light attack jet squadron in navy history!
1978-1980- Commander Third Fleet, Ford Island, Oahu, Hawaii- During the period 1978-1979, I was assigned as the Assistant Air
Warfare Training Officer at COMTHIRDFLEET; responsible for planning and conducting Aircraft Carrier Battle Group training
exercises from the west coast transiting the Hawaiian operating area enroute to deployment to the western Pacific.
Promoted to Captain.
1980-1982- Commanding Officer, Attack Squadron One Seventy Four (VA-174) Hellrazors- During my tenure at VA-174, it was the
largest aircraft squadon in the Navy consisting of over 100 aircraft and 1000 personnel; the squadron was responsible for
the training of replacement pilots for east coast fleet A7 Corsair squadrons and the training of A7 fleet replacement
maintenaince personnel. The squadron conducted operations from Cecil Field, pilot day and night aircraft carrier landing
training, and weapons training at MCAS Yuma, Arizona or NAF El Centro, California. VA-174 won the Chief of Naval
Operations Award for Aviation Safety during my tennure as Commanding Officer; While at VA-174, I completed my 600th
carrier landing from the deck of USS America.
1983- Senior Officer Ship Material and "deep draft" shiphandling training- I completed ship material training at "the site" near
Idaho Falls, Idaho and navigation and ship handling training in Toledo, Ohio, and at Long Island, New York.
1983-Commanding Officer, Fleet Area and Control Facility Jacksonville- I was asigned as interim Commanding Officer
resposible for coordination and planning of aircraft operating and target areas in the Jacksonville operating areas.
1984-1986- Executive Officer, USS Saratoga (CV-60)- Responsible for the coordionation of ship departments during trainig at Fleet
Training area GITMO, Cuba and subsequent deploymenmt to the Mediterranean.
1986-1988- Commanding Officer, USS Austin (LPD-4)- Assumed Command of USS Austin off the coast of Sardinia in 1986 and
conducted two deployments to the Mediterrrean as part of a Mediterranean Amphibious Group (MARG), and a Northern
Wedding Exercise to the North Atlantic as a Surface Action Group (SAG) Commander. Conducted "special operations" in the
eastern Mediterranean. Relieved of Command off the coast of Sardinia in 1988.
Selected for Amphibious Group Command.
1988-1989- Chief of Staff, Commander Cruiser Destroyer Group Twelve- During my tour, COMCRUDESGRU 12 conducted workup
training and deployment to the Meditteranean Sea embarked in USS Dwight D. Eisenhower (CNV-69)
1989-1991- Commander Fleet Air Western Pacific (COMFAIRWESTPAC), Atsugi, Japan- Operations Officer of COMFAIRWESTPAC
and Commander "Orange Forces" for COMSEVENTHFLEET exercises working with US naval and air forces, Japanese Self
Defence Forces (JSDF) air force and naval forces, and Korean navy and air force units. Deployed on "special assignment to
Diego Garcia, Indian Ocean, Bahrain in the Persian Gulf, and Saudi Arabia in August and September 1990 for
Operation Desert Shield.
July 31, 1991- Retired as Captain, USN:
---
Dedicated to my friends and squadron mates who paid the ultimate price flying combat in Vietnam!
Cecil Field aircraft, 1960s to 1990s
A4 Skyhawk (left), F/A 18 Hornet (above),
A7 Corsair (right), and S3 Viking (below)

Cecil Field Heroes' Walk


The pilots who were either POWs , KIA or MIA who flew with me are recognized at the Heroes' Walk

EXCEPT- MY shipmate, LT PC Criag who was lost on Juily 4th, 1967 on an airstike over North Vietnam is not currently a part of the Heroes' Walk. PC was still lsited as MIA (Missing in Action) in 1973 when the Heroes'Walk was established. PC'c remains were returned by North Vietnam in 1987. The 1967 Valions are in the process of having a monument added to the Heroes' Walk in his honor.


Each POW or MIA pilot is recognized with a monument and a memorial tree









Heroes' Walk memorial muument for Pete Schoeffel who was aPOw from September 1967 until February 1973


Behind the Heroes' Walk is the POW Memorial area


POW Memorial plaque at Cecil Field
---
/Return to Personal Page /

---