We decided to build a new house in Park West. I don't recall where we lived while it was being built!
Our address was 575 Gulfstream Trail West
Schools
The girls were not old enough for Orange Park High School yet.
(Although both Heather and Laura would go there while they were still living in Park West).

In September, 1976 Heather was 12 and Laura was 11. They both attended Lakeside Junior High School in grades 6 (Laura) and 8th (Heather).
| | |
| --- | --- |
| Lakeside Gators | Lakeside Junior High School |
Stacy would have been in 1st grade at Lakeside Elementary School which was right next to Lakeside Junior High School.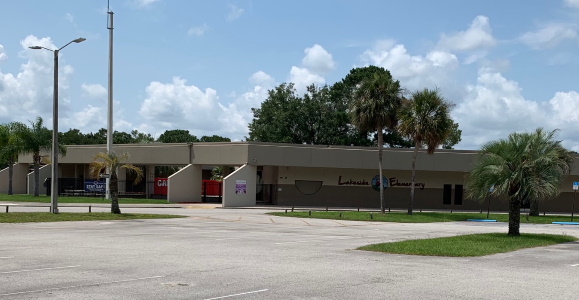 Lakeside Elementary School

---
VA-174
(June, 1976 - October, 1976)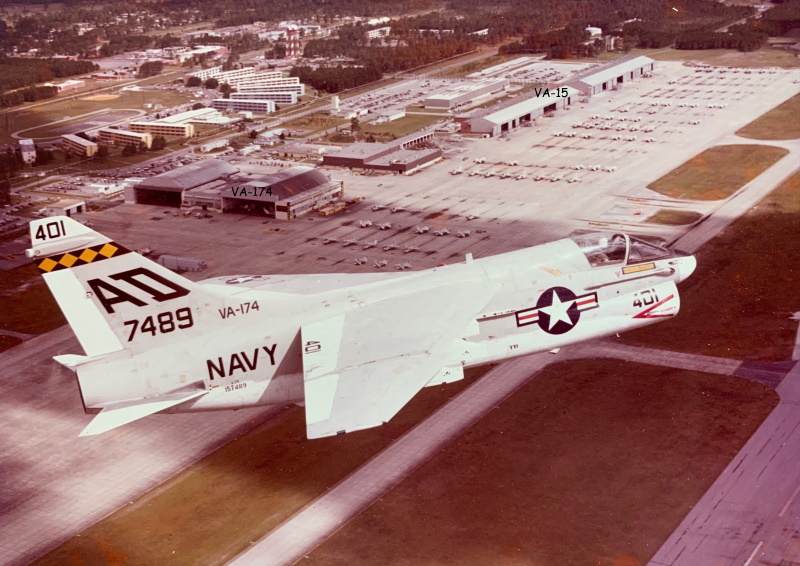 This is a great picture of a VA-174 A7E flying over Cecil Field. The VA-174 hangars and ramp area is directly above the aircraft. The VA-15 hangar and ramp are on the right side of the double hangar complex second from the top.
---
June 23rd, 1976
The day before I started the VA-174 syllabus (my 35th birthday), I flew in a VA-45 TA4J to Homestead Air Force Base. That morning a VA-174 A7 which was one of a section two aircraft flying a low level route as part of the VA-174 syllabus had collided with a 585 ft tower. I was sent to gather information for the accident investigation. The aircraft had hit and severed a guide wire. The wire had slid down the starboard side of the aircraft damaging the leading edge of the wing. The wire had parted with the impact causing the top 85ft of the tower to tumble to the ground. The aircraft had shook a bit from the impact but the pilot was able to land the aircraft at Homestead. I met with the owner of the tower and with the local sheriff. Both were very cooperative and had not disturbed any of the aircraft and tower debris. The accident board concluded that the A7 was exactly at 500ft when it impacted the tower which was the proper altitude for the low level route that a section of aircraft was using for the mission. I returned to Cecil later that afternoon in the TA4.

---

The VA-174 Training Syllabus

There were three categories of pilot training in VA-174. The full length syllabus was designed for students who recently earned their wings from advanced jet training or who were transitioning from another aircraft. These students were called "RPs". The Prospective XO/CO syllabus was shorter than the RP syllabus and was especially designed for each PXO/CO depending on his experience level in the A7 aircraft. The third syllabus was for prospective CAGs (Commander of an air group), was much shorter and was specially designed based on the background and wishes of each PCAG.

---
Ground Training


Completion of ground training was required of each RP before he/she was allowed to start the flight portion of the training. I say he/she because this was during the time that the first woman completed training at VA-174.
I flew 7 A7E flights in December (14.5 flight hours). The concentration seems to have been on instrument flights with actual instrument TACAN and GCA approaches.

January, 1977

MCAS Yuma Weapons Det

January was dedicated to a weapons detachment at MCAS Yuma


On January 7th, we flew from Cecil to NAS Dallas, TX.


| | | |
| --- | --- | --- |
| NAS Dallas patch | LTV Plant- Grand Prarie, Texas | A7E Test Aircraft |
I had arranged a tour of the LTV plant in Grand Prairie where the A7 was manufactured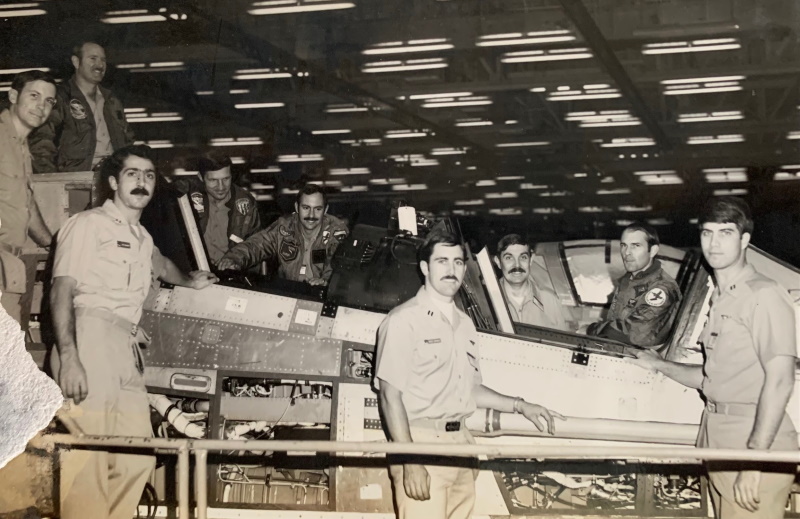 Back Row Left to Right: LTV NAVPRO REP.Frank Gerwe, Kel Huehn, Bo Smith, Bob Maloney, Tom Mitchell
Front Row Left to Right; Boh Chimenti, Lt Greg Grimmard, LTV NAVPRO Rep.

Can anyone idenitfy the LTV NAVPRO guys?


On January 8th, we flew from Dallas to Yuma.



I flew 12 weapons training flight from January 10th to January 21st. Three of those flight were night weapons delivery flights.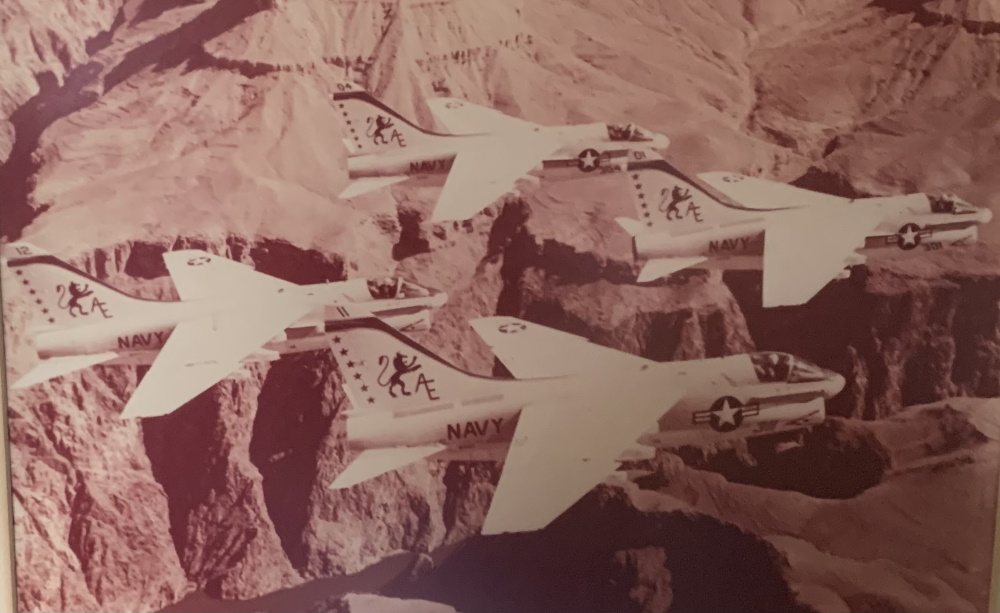 One of these flights at Yuma involved this excellent diamond formation picture.



The short Yuma weapons det was a great way to start 1978. After all, bombing is what we do!



After my last weapons flight on January 21st, I flew from Yuma to NAS Alameda, CA arriving before sunset.
I flew from Alameda to Albuquerque, NM.

On January 23rd, I flew from Albuquerque to Cecil.

In total, I flew 21 flights (50.9 A7E flight hours) in January, 1977
---

February, 1977


FCLPS and Fly On to USS America/REFTRA


February 1st through February 2nd was dedicated to FCLP at Whitehouse (4 day flight and 5 night flights).
On February 25th, we flew out to the America.
On February 27th, I flew one day flight and one night flight recording 2 day traps and 2 night traps.

My total flight time for February was 13 flights ( 21.6 flight hours)

---

March and April, 1977
In March and April we conducted Type Training onboard America

March 3rd-March 31st- I flew 18 flights (33.0 flight hours) during type training.
April 1st-April 23rd- I flew 17 flights (27.0 flight hours) during type training.
The fly off to Cecil took place on April 23rd.

I logged my 300th trap aboard America on April 20th, 1977

---
May, 1977

Type Training/ORE/ Exercise Solid Shield


May 2nd-May 5th- I flew 9 flights from Cecil (mostly weapons training)
* On May 5th, I completed Day and night weapons compexes (competitive exercises)
May 6th- Fly on America for Type Training Two
May 10th-May 22nd- I flew 14 flights as art of TT2
May 23rd- Fly Off to Cecil

In total, I flew 26 flight in May (46.0 flight hours)

---
South American Deployment


Pictures for this section come from my files, the Scrapbook (my departure gift), the Rio Cruise book and Google


| | |
| --- | --- |
| Scrap Book | Rio Cruise Book |
June 6th- FCLPs Whitehouse

June 10th- Fly On for transit and operations off the coast of South America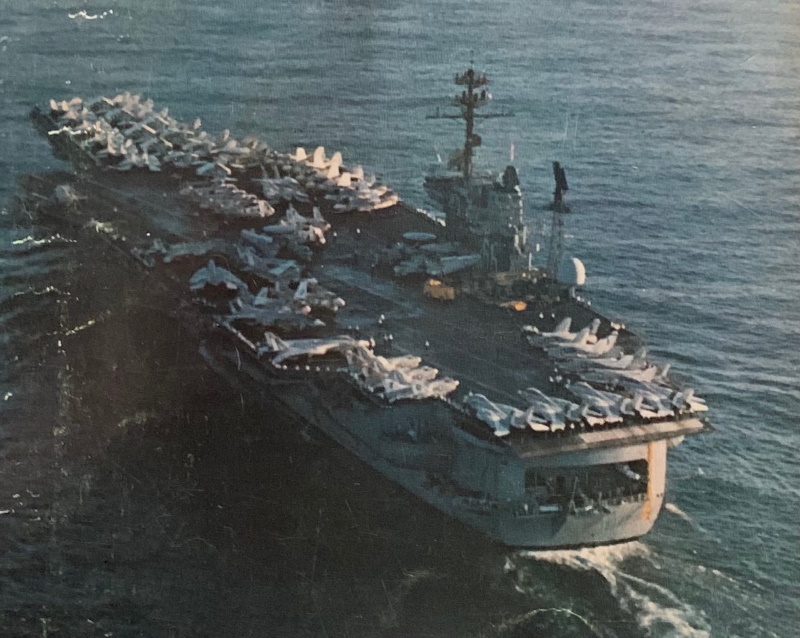 America is headed south


June 11th-June 18th- flight operations off the coast of South America. I don't remember if we were part of a UNITAS Exercise or
independent operations in connection with an important July 4th visit to Rio de Janeiro.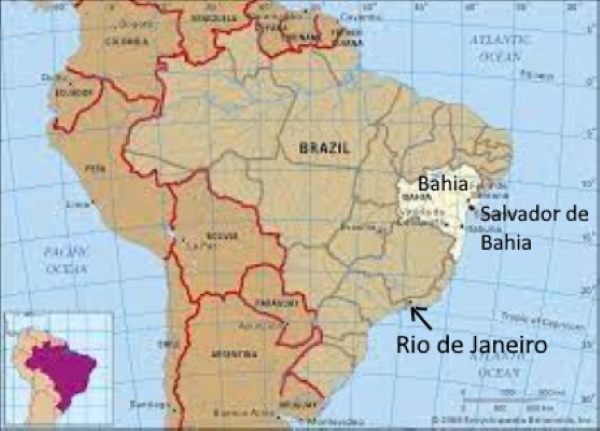 We had two port visits during our deployment of the coast of South America

---

Crossing the Equator- June 19th, 1977

It is a long maritime tradition that when a ship crosses the Equator, those who have not done so before (Pollywogs) must receive instruction by those who have (Shellbacks) before they can properly enter the realm of King Neptune!
| | | |
| --- | --- | --- |
| The lowly Polywogs enter the realm of King Neptune on their haunches. The Shelllbacks are in command. | As a seasoned Shellback, I was a member of King Neptune's Court. | The final task before acceptance was to kiss the "Royal Baby", usually crusty Chief Petty Officers |
Crossing the Equator Certificate